Upgrading your home security may have been on your list of things to get sorted but with darker nights approaching now is the time to act and there is no better place to start than with a conversation with one our friendly Edinburgh electrician team here at DC Electrical.
Security lighting is on many Edinburgh homeowners wish lists but you may be thinking where do I begin? Security lights are designed to alert you to the potential presence of an intruder. Our Edinburgh electricians advise that you use this type of lighting to illuminate areas of your outside space that you can see from inside your property. We do not advise lighting an area of your garden which you cannot view from inside your property.
There are many different types of security lighting options on the market, our expert Edinburgh electrician team can talk you through all the available options but here we can give you a brief overview of the options for you to consider.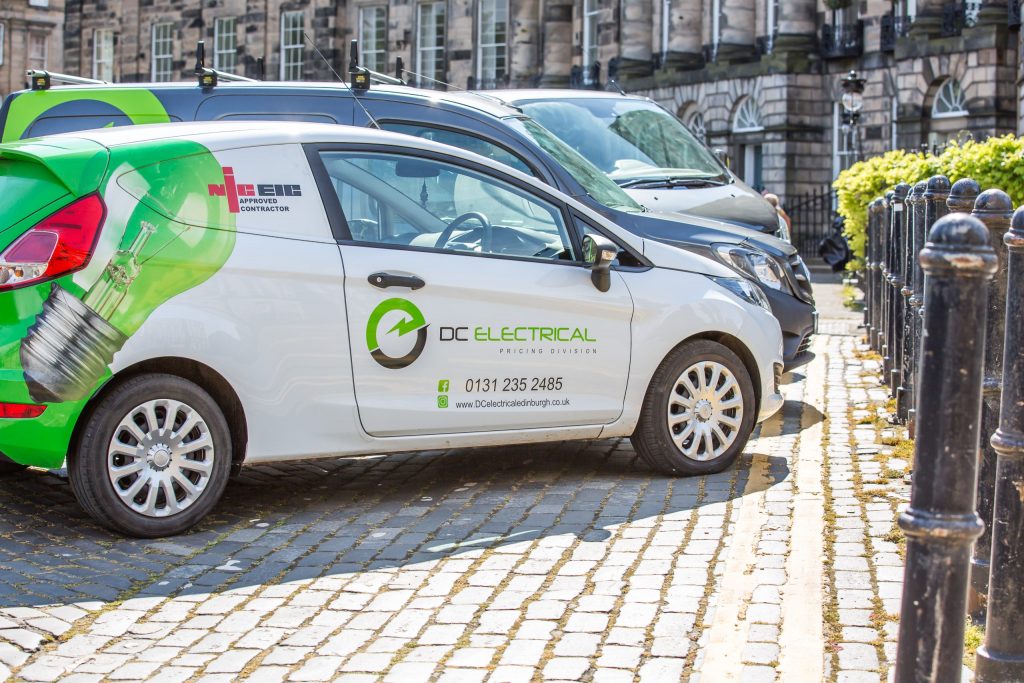 Bulkhead lights are usually made from polycarbonate or glass cover and are simple wall-mounted lights most suitable for a beside your back door, as porch lights, or for outbuildings.

Floodlights provide powerful, high levels of outdoor lighting but can also produce glare which can in some cases make it harder to see at night. The intensity of light can be determined by the wattage of the bulb you choose. Our Edinburgh electrician team would advise that these type of lights are mounted at least 3 metres above the ground and angled downwards. Floodlights are usually wall mounted using a bracket that can be angled in order to direct light and illuminate wide areas. This option is great for larger Edinburgh properties with bigger outside spaces to cover.
The least obtrusive security light options are low pressure sodium lights. These offer lower light levels which offer no glare coupled with great visibility
As your local Edinburgh electrician we can advise you on the many different control options available regarding security lights for your Edinburgh home. Passive infra-red lights (also known as PIR) are activated when someone walks past. The PIR detector monitors infra-red radiation which then triggers a light switch if a change in background radiation is detected. If you would like your lights to come on as soon as it begins to get dark and stay on until morning then you can discuss through the available options with our Edinburgh electrician team & look for a dusk-to-dawn system controlled by a photocell.
Our electrician team have installed security lights at many properties across the Edinburgh region and we would advise that for maximum flexibility choose lights that feature both dusk to dawn and PIR controls. We can of course take you through all of the available options to ensure we install the best outdoor lighting scheme most suited to your property's requirements.
It is worth noting that local authorities do receive complaints about security lighting and the Environmental Protection Act legislates against nuisance lighting. All security lighting must be installed by a qualified Edinburgh electrician to comply with UK building regulations and using our expertise will also help to eliminate any potential issues as highlighted above
No matter what your security light requirements are, as Edinburgh's premier electrician firm we can advise, install and adjust to your exact requirements. Your electrical safety is always our priority but our security light service offers that extra peace of mind security guarantee and will help you keep your home both safe and secure