You may be considering completing some home improvement work on your Edinburgh property or looking at adding an extension or loft conversion. Whatever changes you make to your home, you will require a qualified Edinburgh based electrician to ensure the work is done both efficiently and most importantly safely.
Before any work is carried out on your home it is a good idea to get your electrical system checked, that way your Edinburgh electrician can ascertain whether any improvements may need to be made or recommend if a full or partial home rewire is required.The most efficient way of getting your home electrics checked is asking your Edinburgh electrician to complete both a visual survey and a EICR (electrical installation condition report).
A visual survey completed by your friendly, local Edinburgh electrician consists of a set of basic checks carried out in order to identify any visible signs of deterioration, damage or defects. No circuit testing will be undertaken at this time, so it is fine for your electricity to remain on during the inspection (but your Edinburgh electrician can advise regarding this on the day of your survey).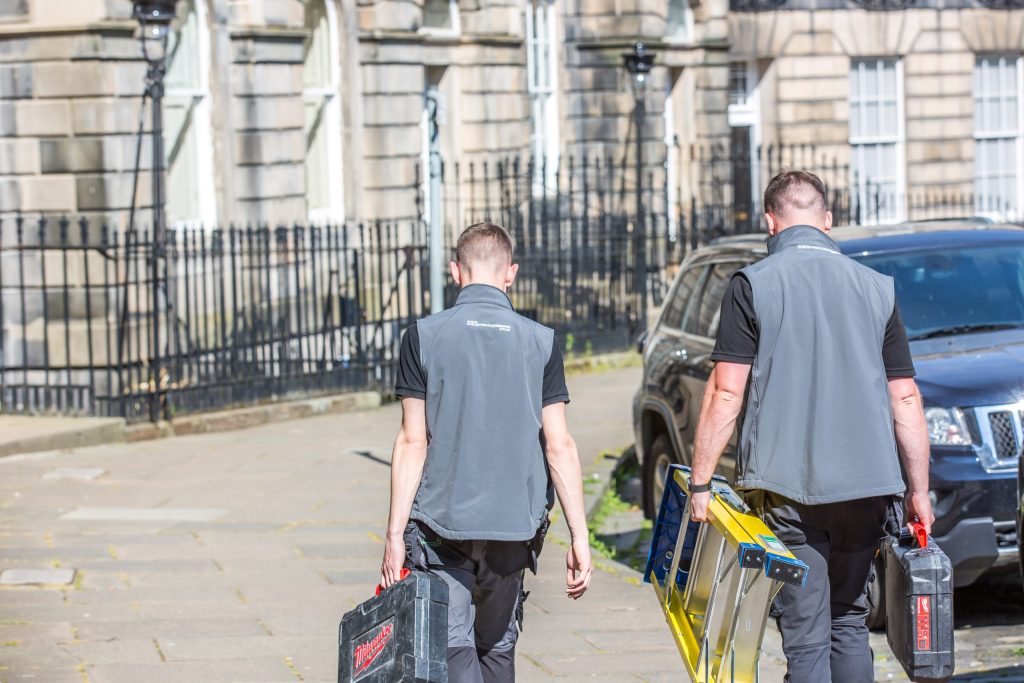 During your visual survey, your Edinburgh electrician will need access to all of the rooms in your home. Depending on the size of your property, we would estimate that the survey should take around an hour to complete. Once your Edinburgh electrician has completed all the necessary checks then a Domestic Visual Condition Report can be issued consisting of observations and recommendations and provide further information regarding any next steps required.
As time goes on, all electrical installations will deteriorate especially as they consist of many working components. By asking your Edinburgh electrician to complete an electrical installation condition report (EICR) will help identify any defects, deterioration or damage which needs attention or improvement. An EICR is a lot more detailed than a Domestic Visual Condition Report and will require your mains electricity supply to be turned off while the testing is undertaken. This will really allow your Edinburgh electrician to identify issues that cannot be identified during a Domestic Visual Condition including any possible hidden defects.
Once your Edinburgh electrician has completed both of these you will have a very clear picture as to where your property stands in terms of it's electrical health and what you need to do in order to move your project forward.
For wiring systems more than 10 years old we would recommend having your home or commercial property's electrical system checked out at regular intervals.. Completing these checks will also give you an idea of any work that might be required including the potential cost if you are considering upgrading the electrical installations or adding to it to include additional circuits.
Whether you are a landlord, a business owner, letting agent or homeowner in the Edinburgh region, we can provide all necessary electrical reports and carry out any required repair work as well.
You can be rest assured we've got you covered across all aspects of electrical certification, just another reason why we are Edinburgh's number one expert electricians.