As Edinburgh's premier electrician team it's our job to keep you informed regarding all aspects of electrical safety. You may not be aware, but as of February the 1st 2022, the law regarding fire safety in Scotland has changed. It is now a legal requirement for every home to have interlinked fire alarms.
What does this mean for Edinburgh homeowners and how does it affect you? Interlinked alarms essentially means that if one smoke or heat alarm in your Edinburgh home goes off, then they all go off. This is to ensure you are alerted as quickly as possible as you may not immediately hear the initial alarm go off. An interlinked alarm system installed by an Edinburgh electrician will make sure you are immediately alerted to any potentially serious situations and may ultimately help in saving lives.
If you are an Edinburgh homeowner then the responsibility lies with you to ensure that your home alarms are compliant with the new required safety standards and that any changes that are required are completed by your local Edinburgh electrician as soon as possible.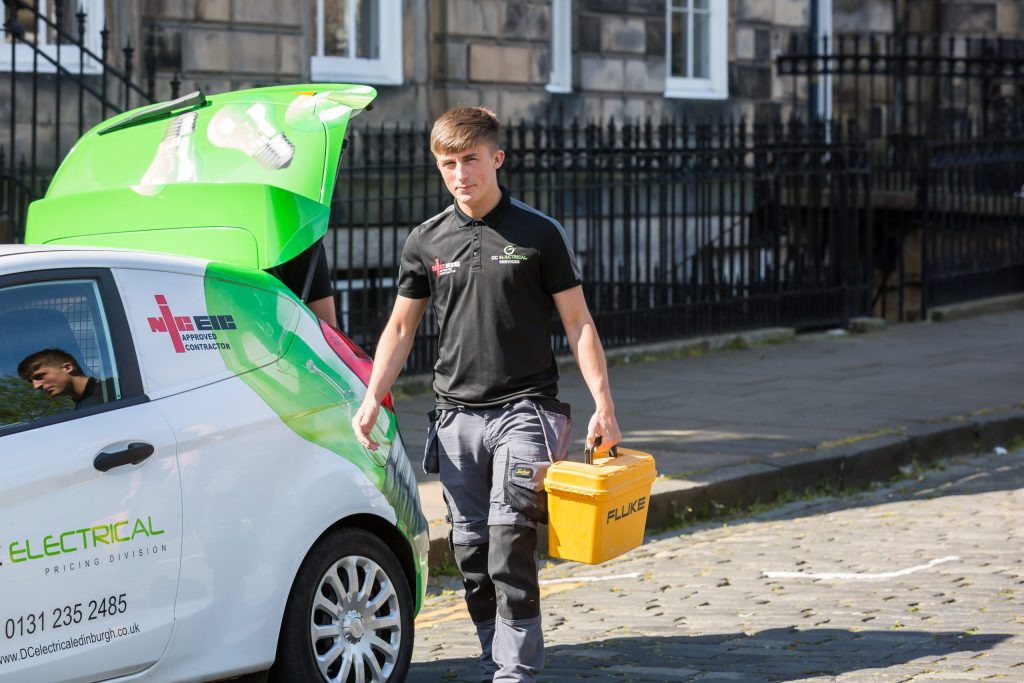 You may be thinking 'what types of smoke alarms do I need?', as Edinburgh's number one electrician team, we are here to help. There are two main types of interlinked alarms that meet the new rules: sealed battery alarms & main wired alarms. Both sealed battery and main wired alarms use radio frequency to interlink each alarm unit so do not require wifi in order to operate. We would recommend main wired alarms as they are tamper proof and as they require installation by a qualified Edinburgh electrician, the system can be fully checked for optimum safety at the time of installation. It is also important to know that mains wired alarms need replacing every 10 years.
The new safety standards in Scotland now state that every home requires one smoke alarm in the room you spend most of your day in. In addition to this you are also required to have one smoke alarm in every circulation space on each storey of your property (for instance on landings or hallways) and also a heat alarm installed in your kitchen. With open plan living becoming more and more popular, if you do have a living room / kitchen home layout then just one alarm is required and this needs to be a heat alarm.
If your Edinburgh home does have a fire, non electric heater or boiler that is carbon fuelled then you are also required to have a carbon monoxide detector located in your Edinburgh property although this does not need to be linked with the other alarms located within your property.
We want every one of our valued customers' properties to be as safe as possible. Our expert Edinburgh electrician team are always on hand to offer help and guidance when it comes to the right alarm system for your home, office or rental property. Simply get in touch today and let our expert Edinburgh electrician team advise & install the right smoke, fire & heat alarms for you.